Welcome to SoldierStudies.org
Current Archive Statistics: =$letter_cnt;?> correspondence entries, =$soldier_cnt;?> soldier profiles



"From what I can tell of your database, it will be quite valuable to researchers."
- James McPherson, author, Battle Cry of Freedom
Life of a Civil War Soldier Series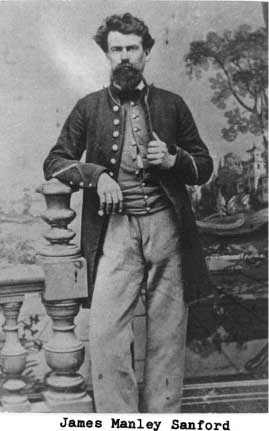 Vicksburg: Carried Back By Grape-Shot

James M. Sanford was born May 2, 1836 near St Joseph, Michigan. This is a short memoir he dictated to his children on his death bed before his death on December 7, 1910 at Fairfield, Nebraska. He was 74 years, 7 months and 5 days when he died. He served with the 11th Wisconsin. He served in Company B and earned the rank of Corpl. Here is an excerpt; "My regiment was placed well in the front of the first of the three lines of battle, which gave me a splendid view of the field. As I turned and looked to the rear, I could see 100 battle flags sweeping on for a grand charge. As I looked to the front, I could see General Pemberton's whole army, who had left their ditch and were on their way back to Vicksburg. Not ten rods from me was General Pemberton in all his splendor, calling to his retreating troops, saying: "Go back to your works! There's only one line. We can whip them."



---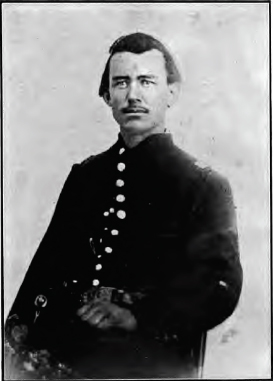 Reminiscences of the Twenty-Second Iowa Volunteer Infantry (1907) - (PDF, 2 megs)

This book was written by Lieutenant Samuel C. Jones of Company A, and is based on his diary. The Twenty-Second Infantry was for the most part recruited in the old capital county of the State, Johnson, which contributed to this noted command no less than seven companies. There was one company from Jasper County, one from Monroe, and one from Wapello, so that the whole was from the Fourth District, since represented in Congress by the Honorable Josiah B. Grinnell. The companies went into rendezvous at "Camp Pope," near Iowa City, during the month of August, 1862, and were there mustered into the service on the 9th of the following month. William M Stone, who had been Major of the Third Infantry, and who was at this time a paroled prisoner of war, was appointed Colonel; John A. Garrett, Lieutenant-Colonel; Harvey Graham, Major; J. B. Atherton, Adjutant; C. F. Lovelace, Quartermaster; William H. White, Surgeon, with Drs. O. Peabody and Alfred B. Lee, Assistants; and Reverend R. B. Allender, Chaplain.



---

Service with the Sixth Wisconsin Volunteers (1890) - (PDF, 36 megs)

By Rufus R. Dawes, 1838-1899. When the Civil War broke out in 1861, Dawes organized a volunteer unit from Mauston in June and was soon elected captain. Company K was mustered into the 6th Wisconsin Volunteer Infantry, which served for the first months of the war on guard duty in Washington D.C.. In June 1862, Dawes was promoted to major. He served with his regiment at the Battle of Groveton and at Antietam and Fredericksburg In March 1863, Dawes received a promotion to the rank of lieutenant colonel and served in the Chancellorsville Campaign.

---

George W. Huntington Diary of 1864 (Private Collection Donation)

George Washington Huntington of Porter County IN, enlisted on August 24, 1863 as a private and mustered into "A" Co. of the 7th Indiana Cavalry. He was transferred out on 8/1/1864 On 8/1/1864 he transferred into Veteran Reserve Corps (date and method of discharge not given). His vocabulary is quite good. He discusses the weather, the horrible life living in a hospital with typhoid fever and how this not what a soldiers life should be, mentions a hospital in Memphis another on an island, moving to different hospitals, guarding rebels, some comments on his regiment about how they were engaged with Forrest, says how one hospital had less niggers a couple times, he discusses the invalid corps which he became a part of, etc, etc.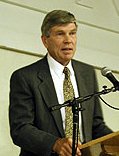 Why Married Men Fought in the Civil War

This is a recorded lecture from June 30, 1997 at the Smithsonian Institution by Dr. McPherson shortly after the publication of his book, For Cause and Comrades, Why Men Fought In The Civil War, which is a comprehensive analysis drawing upon more than 25,000 letters and nearly 250 private diaries from men on both sides of the conflict. Written by the most literate soldiers in history and uncensored by military authorities, these letters and diaries are especially revealing as the soldiers tell their own stories.

---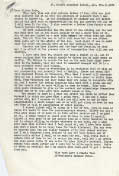 Transcribed letter from Peter S. Tubbs to his sister, Sarah Jane Merrell - Wisconsin Private Peter Tubbs, of Co. I, 29th Regiment Wisconsin Infantry, writes home to Neosho from Ft. Gaines, Dauphine Island, Alabama on February 10th, 1865.

Unknown Correspondent report (4 pages) published in the Wisconsin Daily State Journal on December 30, 1862.
Online FREE Self-Guided Civil War Class

One Soldier's Story - The memorial stands on a curve in the road near the American Legion Post, a silent piece of granite atop a patch of freshly cut grass. Cars pass it day after day, year after year, and it seldom attracts a visitor.

Missives of War in Another Time - In his letters home, George Bartlett wrote about the financial benefits that had lured him into the military, questioned the war's aims, and criticized inept commanders.
http://www.soldierstudies.org


or for a specific letter, here's an example:

Charles W. Gooch to his Wife, April 9th, 1863.
http://www.soldierstudies.org/http://www.soldierstudies.org/index.php?action=view_letter&Letter=158
---
Contact:
SoldierStudies.Org
PO Box 9010
2139 North 12th St. Unit. 10
Grand Junction, CO 81501-7600
Featured Soldier Resouce: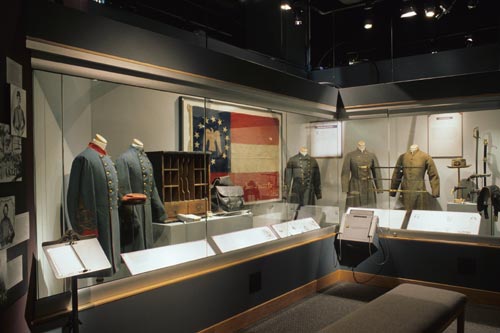 Soldiers on both sides spent much of their time in camp. Some military campaigns followed seasonal changes-battle in the spring and summer, camp in the fall and winter. Daily life in camp included drills and other military duties. Although soldiers complained of endless work and boredom, camp life also provided an opportunity to form friendships, reflect on loved ones at home, enjoy moments of recreation, and engage in spiritual renewal.

Wisconsin Goes to War: Our Civil War Experience

Featured e-Books:
PERSONAL NARRATIVES
---
Reminiscences of a Rebel (PDF, 8 megs, 148 pages) - Wayland Fuller Dunaway of the 40th Virginia Infantry Regiment.

The story of a common soldier of army life in the civil war, 1861-1865 (1920) (PDF, 24 megs, 312 pages) - by Leander Stillwell, a soldier in the 61st Illinois Infantry Regiment.

Echoes of the civil war as I hear them (PDF, 19 megs, 297 pages) - by Michael Hendrick Fitch, of the 21st Wisconsin Regiment

REGIMENTAL HISTORIES

---
History of the Thirty-third regiment Illinois veteran volunteer infantry in the civil war, 22nd August, 1861, to 7th December, 1865 (PDF, 40 megs, 300 pages) - by Virgil Gilman Way

The Thirty-third regiment Illinois infantry in the civil war, 1861-1865 (PDF, 1.3 megs, 12 pages) - by John Howard Burnham

The story of the Thirty eighth regiment of Massachusetts volunteers (PDF, 21 megs, 334 pages) - By George W. Powers